Welcome to Chatham, Massachusetts! This charming seaside town is the perfect destination for a weekend getaway. Whether looking for delicious food, cozy accommodations, or interesting attractions, Chatham has it all! To help you plan your trip, we have put together this ultimate Chatham travel guide with the best places to eat, stay, and play. From the local Chatham Village Market to the Chatham Railroad Museum, plenty of unique experiences await you. So, what are you waiting for? Let us explore the amazing offerings of Chatham!
Where to Eat
Chatham, Massachusetts, has a delicious selection of restaurants, cafes, and eateries. Whether you want a romantic dinner or a casual bite with friends, you will find something to please your palate in Chatham.
If you want fresh seafood, head to the Chatham Pier Fish Market. Here, you can sample freshly caught local seafood, from succulent scallops and mussels to fish tacos and lobster rolls. You can also pick up fresh fish to take home and cook.
For those with an appetite for Italian cuisine, head to Monomoy Lobster House for homemade pasta, thin-crust pizzas, seafood specials, and desserts. The atmosphere is cozy and inviting – perfect for a date night out.
Try Mermaid's Table if you are in the mood for something more casual. This popular seafood shack serves classic New England-style dishes like fried clams, fish 'n chips, and chowder. For a special treat, try their famous lobster roll.
No matter what your taste buds crave, Chatham has many delicious dining options! From waterfront restaurants to upscale bistros, there is something for everyone. Check out Fresh Shucker Oyster Bar for a unique seafood experience – they shuck oysters onsite daily!
Consider one of Chatham's many food trucks for a fun twist on traditional dining. Parked around town, these mobile eateries serve up a variety of tasty treats ranging from Mexican street tacos to gourmet grilled cheese sandwiches.
If you are looking for a truly memorable experience, plan a visit to 19 Raw Bar and Grill. Boasting fresh catches sourced directly from the pier, this upscale restaurant offers stunning ocean views and some of the best seafood. Enjoy everything from oysters Rockefeller to pan-seared cod fillet with a glass of wine.
Where to Stay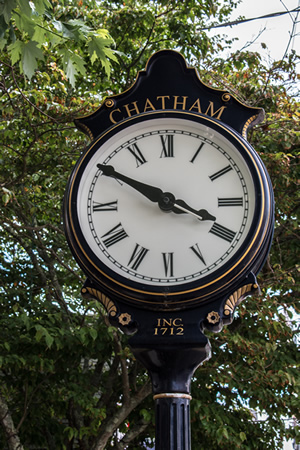 Chatham, Massachusetts, is a charming coastal town that has something for everyone to enjoy. From breathtaking beaches to delicious local seafood restaurants, there are plenty of ways to relax and have a great time. When it comes to finding the perfect place to stay during your visit, Chatham offers a variety of lodging options. Whether you are looking for a cozy bed and breakfast or a luxurious hotel, there is something that will fit your needs. Here are some of the best places to stay in Chatham.
Bed and Breakfasts:
Chatham is home to several delightful bed and breakfasts, which provide a unique and cozy experience that is perfect for a romantic getaway or a quiet vacation. The Old Harbor Inn has luxurious rooms with stunning views of Chatham Harbor and serves a delicious breakfast each morning. The Captain's House Inn features bright, beach-themed rooms with comfortable beds and plenty of amenities. For those looking for an oceanfront view, The Grand View Inn offers panoramic views of Nantucket Sound from their decks.
For those who prefer the convenience and comfort of a hotel, there are several excellent choices in Chatham. The Cape Codder Resort & Spa provides guests access to its world-class spa, pool, and fitness center. The Chatham Wayside Inn is known for its luxurious accommodation and an unbeatable location in the heart of town. For those who are on a budget, the White Cedar Inn provides clean, comfortable rooms at an affordable rate.
Plenty of vacation rental properties are available in the area if you want more space or want to experience the true feeling of living in Chatham. From charming cottages to modern beachfront homes, you can find something that fits your needs. Many rentals also have special amenities like private pools, fire pits, and more.
No matter where you stay in Chatham, you will surely have an unforgettable experience. So, check out these lodging options to get the most out of your trip!
What to Do
Chatham, Massachusetts, has plenty of things to do for the entire family. From exploring the unique shops and art galleries to taking a scenic stroll on the beaches of the Cape Cod National Seashore, there is something for everyone.
For a unique experience, visitors can take a guided tour of the Chatham Lighthouse. The lighthouse provides beautiful views of the Atlantic Ocean and is home to seals, sea birds, and other wildlife.
Outdoor enthusiasts will find plenty of activities to enjoy in Chatham. The area boasts several public parks, including Nickerson State Park and Hardings Beach. Visitors can spend their days fishing, kayaking, or simply enjoying the beautiful scenery of Cape Cod.
Shoppers can explore the unique stores in downtown Chatham or take advantage of discounts at the Shops at Chatham Bars Inn. There are also several farmers' markets where visitors can purchase locally-grown produce and handmade items.
The vibrant arts scene in Chatham is worth exploring as well. The town offers several galleries and art studios where visitors can view works by local artists. The Chatham Performing Arts Center hosts yearly concerts, lectures, and other events.
No matter what you are looking for, you will find plenty to do in Chatham, Massachusetts! Whether you are an outdoor enthusiast looking for adventure, a shopper hoping to score some deals, or an art lover looking for some culture, Chatham has something for everyone. Its convenient location near Boston and Providence, Rhode Island, is an ideal weekend getaway spot!
Chatham offers many restaurants with cuisines ranging from classic New England seafood to international flavors for those looking to indulge in some delicious food during their visit. You will be sure to find something that satisfies your appetite!
Visitors can choose from luxurious resorts, quaint bed-and-breakfasts, or even cozy vacation rentals for overnight stays. And if you are planning a wedding or special event in Chatham, the town features many elegant venues that offer stunning ocean views and picturesque landscapes.
No matter how long your visit may be, Chatham, Massachusetts, will not be disappointing when it comes to things to see, eat, and experience!